Ross Mathematics Program, The Ohio State University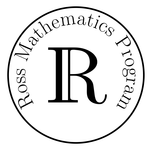 The Ross Program at the Ohio State University is an intensive summer experience designed to encourage motivated pre-college students to explore mathematics. During those six weeks, students are immersed in a world of mathematical discovery. Dr. Arnold Ross founded this Program at Notre Dame University in 1957, and the Program has run every summer since then, moving to Ohio State in 1964.
---
......currently no programs posted, please contact
for any inquiries......
---
© 2018 MathPrograms.Org, American Mathematical Society. All Rights Reserved.