Ross Mathematics Foundation, Ross Mathematics Program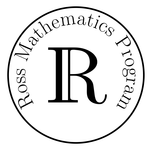 The Ross Program is an intensive summer experience designed to encourage motivated pre-college students to explore mathematics. During those six weeks, students are immersed in a world of mathematical discovery. Dr. Arnold Ross founded this Program at Notre Dame University in 1957, and the Program has run every summer since then.
---
[COUNSELOR] number theory, Ross Mathematics Program Counselor

(deadline 2021/02/26 12:00PM)
(1 program listed)
---
© 2021 MathPrograms.Org, American Mathematical Society. All Rights Reserved.