American Mathematical Society, Mathematics Research Communities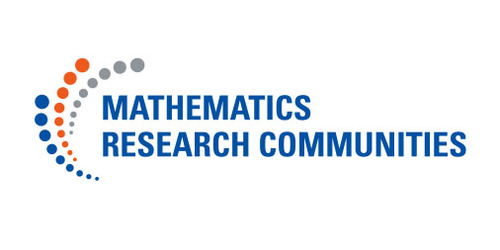 About the Mathematics Research Communities:
Mathematics Research Communities (MRC), a program of the American Mathematical Society (AMS), nurtures early-career mathematicians--those who are close to completing their doctorates or have recently finished--and provides them with opportunities to build social and collaborative networks through which they can inspire and sustain each other in their work.
The structured program is designed to engage and guide all participants as they start their careers. For each topic, the program includes a one-week summer conference; a Special Session at the next Joint Mathematics Meetings; opportunities for support for collaborative travel; and guidance in career building. The program provides for 40 funded participants.
The 2024 summer conferences will be held at Beaver Hollow Conference Center, Java Center, NY, where participants can enjoy a private, distraction free environment conducive to research. Beaver Hollow is located in Western New York, 45 minutes from the Buffalo Niagara International Airport, one hour from Rochester or Niagara Falls.
Those accepted into this program will receive travel support for a summer conference, and will be partially supported for their participation in the Joint Mathematics Meetings which follow in January 2025 in Seattle, WA. All participants are expected to be active in the full MRC program.
ELIGIBILITY:
Individuals within one to two years prior to the receipt of their PhDs, and up to five years after receipt of their PhDs, are welcome to apply. Generally, applicants should apply to one of the programs that best matches their research interest. Applications to two MRCs are allowed, but an individual will not be selected to participate in more than one MRC. Individuals applying to three or more MRCs may be disqualified. Most of those supported by NSF funds to participate in the MRC program will be US-based, that is, employed by or a full-time student at a US institution at the time of the MRC summer conference. However, the terms of the grant allow for a limited number of individuals who are not US-based to be supported. Depending on space and other factors, a small number of participant slots may be available for self-funders. Applicants wishing to be considered as possible self-funded participants should email

ams-mrc@ams.org

at the time they apply and state that intention. Self-funders must satisfy the same criteria for admission as those who receive grant support. Individuals who have previously participated in an MRC will not be considered for admission without a clear rational articulated in the application for repeating, and in any event, no one may be an MRC participant more than twice.
For any program, fellowship, prize or award that has a maximum period of eligibility after receipt of the doctoral degree, the selection committee may use discretion in making exceptions to the limit on eligibility for candidates whose careers have been interrupted for reasons such as family or health. Therefore, applicants who have had to slow down or temporarily stop their career for personal reasons may request to be considered for an extension in the amount of time after the PhD degree. Please send exception requests to ams-mrc@ams.org.
REQUIREMENTS:
Completed on-line application form

One (1) reference letter submitted by a professor or supervisor who knows the applicant and can address how the applicant will benefit from, and contribute to, the MRC program.
Applications will close at 11:59 p.m. Eastern Time on Thursday, February 15, 2024. No new applications are being accepted.
Note that all applicants will be notified of their status by May 1, 2024.


---
......currently no programs posted, please contact
for any inquiries......
---